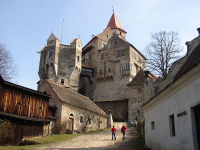 Pernštejn is one of the most popular and beautiful Moravian castles. It is situated in deep forest about one hour from Brno by train. Join us and visit castle by guided tour in the begin of autumn and learn useful vocabulary which you can use while visiting other sights in the Czech Republic.

The registration is closed. Thank you all that come.
When?
Saturday 19th September, from 9:45 am, suggested time of arrival back to Brno at about 5-6 pm (or earlier if you do not join us for lunch and stroll in the surroundings)
Where will we meet?
Brno-Královo Pole train station, we are going to meet in the station hall at 9:45 am, a map
It is also possible to come by car to Nedvědice, a map. In this case, please contact us.
Price: 100 CZK (our students) / 150 CZK (others) for the Czech lesson + 190 CZK for the guided tour + 112 CZK for the return train ticket Brno-Nedvědice, together 402 CZK (our students), 452 CZK (others)
Level: Beginners (minimal basic knowledge of Czech is reguired) — Upper-Intermediate
The whole event will be in Czech.
The middle-age castle Pernštejn is situated in the east part of Českomoravská vrchovina region near Nedvědice town. We are going to visit the castle palace with a proffesional guide and look at unique Gothic and Renaissance interiors which will be decorated with autumn flowers and fruits. The decorations are prepared by specialists in flower arrangement in historical times. During our trip we are also going to practise vocabulary and phrases connected with sightseeing. There are about 2000 castles and historical palaces in the Czeh Republic therefore you will have a lot of opportunities to use this vocabulary in practice. After visit of the castle you can join us for a lunch and a short afternoon stroll in the surroundings.
Other Study Czech Fridays
1st Study Czech Friday – "S tebou mě baví svět" – 15/02/2013
2nd Study Czech Friday – "Eating in Brno" – 15/03/2013
3rd Study Czech Friday – "Who stole a cactus?" – 05/04/2013
4th Study Czech Friday – "Where is …?" – 19/04/2013
5th Study Czech Friday – "Byl pozdní večer, první máj …" – 10/05/2013
6th Study Czech Friday – "Summer on the road" – 31/05/2013
Study Czech Friday with a smell of coffee – 21/09/2013
Study Czech Friday: Stroll around Brno centre – 01/11/2013
Study Czech Friday: An Evening with Guitar – 29/11/2013
Study Czech Friday: Shopping – 28/02/2014
Study Czech Friday: At the post office – 11/04/
Study Czech Friday: Roasting sausages – 06/06/2014
Trip to Babí lom observartion tower – 14/06/2014
Study Czech Piknik ‎- 09/07/2014
Study Czech Friday Under the stars ‎- 29/08/2014
Study Czech Friday Train Adventure ‎- 10/10/2014
Study Czech Friday In the Wine Bar ‎- 28/11/2014
Study Czech Friday Winter Activities ‎- 30/01/2015
Study Czech Friday The spring time, time of shortening ‎- 13/03/2015
Study Czech Friday(Sunday) – Brewery Černá Hora ‎- 24/05/2015
Study Czech Picnic ‎- 12/07/2015
Study Czech Friday (Saturday) – Where to go in Brno in summer? To the ZOO! ‎- 08/08/2015